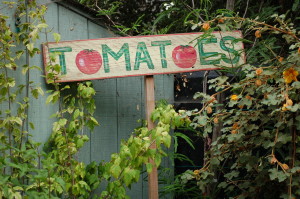 SEPTEMBER 5th, 11:00 A.M.
One of the most satisfying feelings in the world is cooking with fresh ingredients from the garden! Delight your taste buds and enhance your cooking skills by joining local Ojai chef Ellen Sherwood for a cooking class!
Participants will learn how to cook with the following ingredients:
Peach trees, Avocado trees, Olive trees
Red bell peppers
Parsley
Chives
Shallots
Garlic
Scallions
Tomatoes
Variety of lettuces,
Kale
Yellow squash
Zucchini
Lemons
Basil
Plain and orange mint plants
Cooking Class participants with be provided with small portion food samples from the following menu:
Baked Vegetable Gratin served on Crostini
Spaghetti with Avocado Sauce
Gluten Free Brown Rice/Quinoa Pasta with Kale, & Parmigiano
Dessert:  Sauterne Peaches with Peach Whipped Crema
How delectable!
Interested participants must pre-register for this seminar.