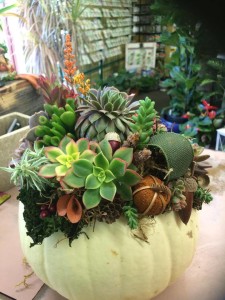 OCTOBER 10th, 11:00 A.M.
It's that time of the year again! Pumpkins come off the vine and tumble into our store just in time for the fall season. Join us for a seminar that combines pumpkins and succulent design! Flora employee Stefani Blain will help you create the perfect fall centerpiece for your dining room table.
There is a $25 material fee for those wanting to participate.
Feeling crafty already? Check out our specialized Pinterest Board!
Don't forget to join our event on Facebook here!