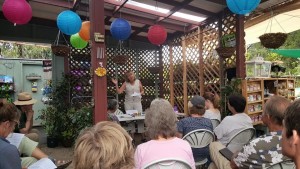 It's hard to believe that Flora Gardens has served the Ojai Valley for six years! It has been an amazing six years, and we have learned so much. Flora would not be the business it is today without the vibrant and supportive Ojai community, and to celebrate six years serving the Ojai Valley we decided to throw a party for our customers!
We had an amazing day filled with multiple free seminars, food and music!
We had quite a line-up planned for that Saturday. Early in the morning customers attended a seminar by Lotusland docent Lynn Kirby, who conducted a seminar on how to build a pollinator friendly garden.
Ellen Sherwood, of La Piu Bella, brought trays full of delightful desserts for customers to sample as they strolled around the store.
The Santa Barbara based band The Riverside braved the rain to come out and play for us! This Indie rock band serenaded our customers as they strolled through the store and enjoyed our free taco stand.
Listen to Apple Picking Season, which they played during this rainy day, while you read on!
Our most popular event ended up being Taco Guzman's food truck, filled with delicious homemade street tacos! Every customer that walked in through our door received two free tacos!
The rain ended up being a blessing, as the summer Ojai heat can be scorching!
Join the event on Facebook here.