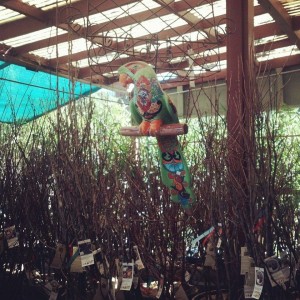 Ojai's Mediterranean climate allows us to grow a wide variety of plants, and is one of the city's greatest perks. Aside from the famed Ojai Pixie, Ojaians can grow other citrus, avocados, and stone fruit. Last Saturday Flora Gardens owner and arborist Carolina Murillo hosted a seminar on taking care of bareroot fruit trees.
For those who do not know, buying bare root fruit trees is less expensive than buying them in gallons, as the trees are dormant and are transported in nothing but sawdust. All trees we have in stock are handpicked by Carolina, who makes sure that these trees do well in the Ojai Valley.
We had a great turnout, lovely weather and inquisitive students! Attendees asked great questions, such as questions about chill hours, watering schedules and fertilization.
For those who missed the event, but who are interested in what Carolina had to say, here are some key points:
Inadequate watering accounts for 90% of fruit tree death
Keep young trees in gopher baskets to protect them from gophers
Dig wide, not deep, holes
Be sure to plant your trees in a sunny spot not overshadowed by oak trees
Account for chill hours when shopping for trees such as apples, peaches and plums, as the weather will affect how much fruit the tree produces
We hope that more rain will come our way to water our winter gardens! Happy Planting!